BME Pistons: the Coach's Choice
Joe Gibbs is one of the greatest names in sports. He won three Super Bowls and five NFC titles as Head Coach of the Washington Redskins. No doubt, Coach Gibbs was stellar on a football field, but he's been nothing short of amazing as a NASCAR Team Owner.
Since it was formed in 1991, Joe Gibbs Racing has won Six Championships. In those 25 years, JGR has, also, won 271 races, qualified on the pole 233 times and finished in the top-five 1024 times.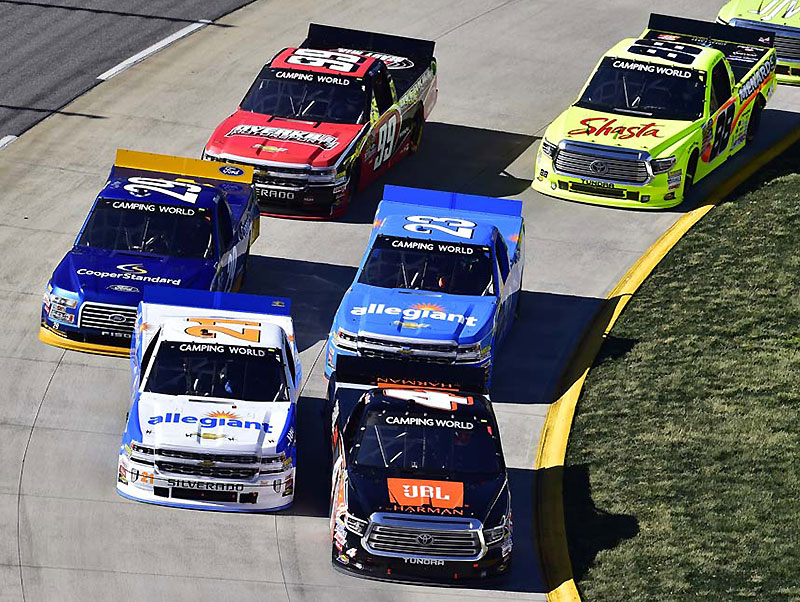 Christopher Bell in the #4 JBL Toyota Tundra leads the field at Martinsville in 2017. Eight BME Forged Aluminum Racing Pistons help the #4 truck get to the front. Image: Kyle Busch Motorsports
For 20 years, JGR has depended on the reliability and durability of Bill Miller Engineering Forged Aluminum Racing Pistons. Of Joe Gibbs Racing's four Sprint Cups ('00, '02, '05 and '15) three of them, along with both its Xfinity titles ('09, '16), came with engines using BME Pistons.

During 2016, JGR Toyota Camrys won 19 of 33 NASCAR Xfinity events--almost 60% of the races--and every one of those wins came with BME Pistons. In the '16 Camping World Truck Series, Kyle Busch Motorsports Toyota Tundras won 11 races, ThorSport Toyotas won two and Red Horse Racing had one victory. Under the hoods of all those trucks, which won nearly 50% of the races, were engines from Joe Gibbs Racing fitted with Bill Miller Engineering Forged Aluminum Racing Pistons. BME domination of the Xfinity and Camping World series was not just in 2016. Since 2007, Joe Gibbs Racing Engines with BME Pistons inside have won the Xfinity championship twice and the Camping World Truck championship twice.

A BME-equipped, JGR-built Toyota NASCAR V8 helped Daniel Suarez win the 2016 NASCAR Xfinity Series Championship. Suarez drove #19 JGR Toyota Camry to 19 top-5s, three pole positions, three wins and the Xfinity title. Image: Joe Gibbs Racing.
The NASCAR success of Bill Miller Engineering has been long-standing. Since 1996, BME Pistons have been in the engines of six Sprint Cup Champions, Jeff Gordon (1997, 1998, 2001) Bobby Labonte (2000) and Tony Stewart (2002, 2005) along with six Daytona 500 Winners.
| | |
| --- | --- |
| In 1998, the late Dale Earnhardt won at Daytona using BME Pistons. | Bill Miller Engineering is proud that the greatest driver of NASCAR's modern era, seven-time Champion, the late Dale Earnhardt Sr., used the performance and reliability of BME parts to put the famed #3 Goodwrench Chevrolet in the victory circle at Daytona in 1998--considered the greatest Daytona victory of all--and at other races in the final three years of his career. |
BME Dominates Down Under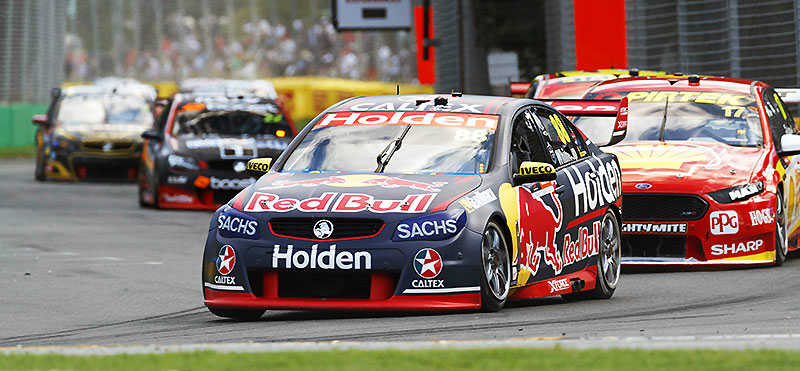 Six-time Virgin Australia Supercar Champion Jamie Whincup, in the BME-Equipped #88 RedBull Holden VF Commodore, leads the field at the Melbourne Supercars Grand Prix in March of 2016. Whincup eventually was the runner-up in the Championship to his teammate, 2016 Virgin Austraila Supercar Champion, Shane van Gisbergen.
Image: Red Bull Content Pool.
Some of the best sports sedan road racing in the World is the Virgin Australia Supercars Championship. Broadcast in 137 countries, it has world-wide appeal. Events average over 100,000 attendance and the Clipsal 500 (sort of like Australia's Daytona 500) draws a quarter of a million spectators. Competitors are GM's Holden brand, Ford, Nissan, Mercedes and Volvo.
In five out of the last seven years, the Triple Eight Race Engineering team, running either Holden VE or VF Commodores has won the Championship. Triple Eight's engines are built by KRE Racing Engines. KRE puts eight Bill Miller Engineering Forged Aluminum Pistons in every engine they build.
In 2016, Triple Eight's two teams, Red Bull Australia and Team Vortex won 15 of 29 races--better than 50%--and finished first and ninth respectively in the team standings. Winning eight of the races, Shane Van Gisbergen (Red Bull), took the driver's title. Six-time Champion, Jamie Whincup (Red Bull, six wins), was runner-up and three-time Champion, Craig Lowndes (Vortex, three wins) was fourth. Other teams used BME-equipped KRE engines, too. Fifth in points, with two wins, was Tekno Motorsports', Will Davison, in another VF Commodore. KRE engines won 2/3rds of the races and one of the reasons they own the Virgin Australia Supercars Championship is their BME Pistons.
BME Pistons: 400+ at the Salt
Bill Miller Engineering Forged Aluminum Racing Pistons are used in many types of racing, including the fastest of all--land-speed competition.
Land speed National Records at Bonneville Salt Flat are an average of two runs, a day apart. For each, you have two miles to accelerate, a three-mile speed trap and several miles to stop. On 21 August 2016, Danny Thompson set the Southern California Timing Association (SCTA) AA/Fuel Streamliner National Record at 406.769-mph driving the BME-equipped, twin-engine, all-wheel-drive "Challenger 2". Its engines are 500-inch, Brad Anderson Hemis. Each is fuel-injected, burns 72% nitro and produces 2500-hp. Both are equipped with BME Racing Pistons that provide the performance, reliability and durability needed to produce a sustained 5000-hp and do it run after run.

Both of the 2500-hp, BAE Hemis in Danny Thompson's Challenger 2 are fitted with BME Forged Aluminum Racing Pistons. Image: BME Ltd.
Two weeks later, Thompson was back at the Salt for a try at a World Record in FIA Category A, Group II Class 11. Interestingly, back in 1959, his Dad, Mickey, famed racer of the '50s and '60s, set a 345.33-mph record in the same class with the four-engine, Challenger 1.
Early morning, 16 September, running against an existing 414-mph record, Danny came oh-so-close. At 413-mph, Challenger 2 blew both rear tires. Thompson got the "C2" stopped safely but the tire failures ripped the rear driveshaft out of the car and damaged the body, ending the record attempt. Danny Thompson plans return to Bonneville in 2017 with the same BME Forged Aluminum Racing Pistons in his pair of Hemis.
Why have Bill Miller Engineering Pistons had such success in NASCAR, the Australian Supercar Series, at Bonneville and in other forms of racing?
Simple.
BME makes a better piston.
The BME Advantage
In the mid-'90s, the first Sprint Cup team to switch to BME Pistons gained 8-10 horsepower. In NASCAR five horsepower is substantial and 8-10 is huge. Soon, other teams switched. By the end of 1999, all the top GM teams in Sprint Cup were buying BME Pistons.
Prior to that, most Cup teams used another piston brand. The engine shops of the two top Chevrolet teams, Richard Childress Racing and Hendrick Motorsports, were having trouble with "micro welding".
In a 1990s NASCAR engine, the heat transfer path was: from the piston top, to the top ring, to the cylinder wall and, finally, to the block's cooling jacket. To keep the piston from overheating, this path had to adequately transfer heat. The other brand of pistons had ring groove surface finishes so rough that heat transfer from the piston to the top compression ring was inhibited. That allowed the ring to get so hot that microscopic, heat-softened pieces of piston material would weld to the ring. Once that happened, ring rotation stopped, ring seal degraded and power dropped.
The solution to micro welding is the higher-quality finish on the ring grooves of a Bill Miller Engineering Forged Aluminum Piston. Superior manufacturing processes, using Okuma Simulturn CNC machining centers, and rigid quality controls hold tolerance for ring groove run-out to less than two ten-thousandths (.0002) of an inch, 360-deg around the piston. A BME Piston's nearly mirror-smooth ring groove surfaces improve heat transfer. That reduces peak temperature of the top ring, eliminating micro welding. Ring seal during the intake stroke is enhanced. That increases the pressure differential caused by the piston moving down on the intake stroke so the engine pulls in more air. More air means the engine can burn more fuel. The final result is more power.
Since BME Pistons are custom-made, we offer a variety of optional services and one some NASCAR teams choose is a unique piston design. This allows the team to have pistons of its own, special configuration. The specifics of these designs are known only to the teams? engine shops and the engineers at BME.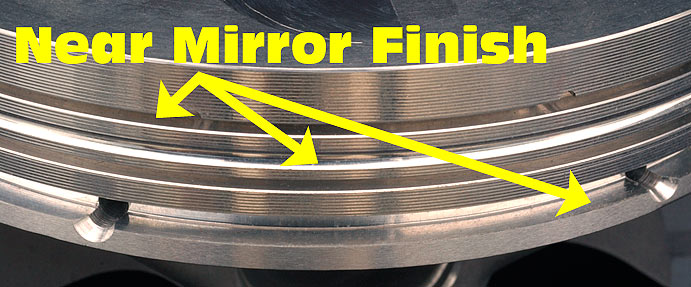 BME's special machining procedures result in a very smooth finish on ring lands. That near-mirror finish greatly increases resistance to microwelding. Image: BME Ltd.
BME makes 400-gram, NASCAR racing pistons for the Chevrolet, Ford and Toyota NASCAR engines and a 400-gram piston for the Holden V8.
| | |
| --- | --- |
| BME Pistons are manufactured in Carson City, Nevada. BME's factory is clean, modern and filled with the latest in manufacturing technology, such as Okuma Simulturn five-axis CNC machining centers. | Six views of a BME Forged Aluminum Sprint Cup Piston. |
BME Pistons: The Drag Racers' Choice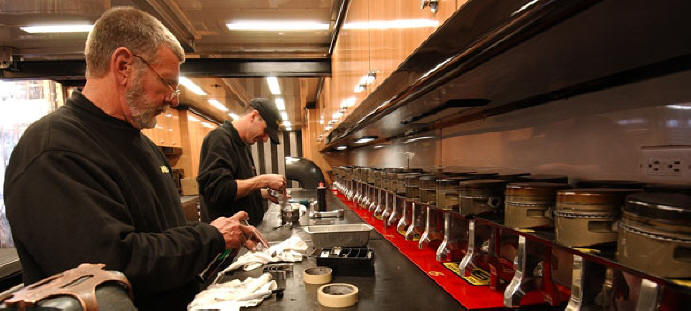 Two well-known reasons many nitro class engine builders choose BME Forged Aluminum Pistons are 1) their winning record and 2) their reliability. But, there's a third important issue and that's cost. Top Fuel and Funny Car teams need many sets of pistons because each of them has half-a-dozen or more engines. If the pistons are more durable, they will last longer and a team will need less of them. That makes the BME Piston not only a winner but also a great value. Image: BME Ltd.
While BME's flagship piston products are NASCAR and road racing pistons, Bill Miller Engineering's cutting-edge technology and premium quality wins races in another motorsport which is a grueling test of pistons: blown-fuel drag racing. In fact, drag racing was the first market for the BME Forged Aluminum Racing Piston.
Ever since legendary, dragster and funny car crew chief, the late Dale Armstrong, switched to BME in the 1980s, blown-fuel racers have used BME Pistons in their engines. Since then, in the Top Fuel and Funny Car classes of National Hot Rod Association and International Hot Rod Association competition, where engines making 1000-horsepower per cylinder are the norm; BME products are a benchmark by which racing pistons are judged.

There is only one piston manufacturer in the World which races its products in its own Top Fuel Dragster and that's Bill Miller Engineering. Bill Miller's "BME Top Fuel Dragster", driven by Troy Buff, is a key development tool Bill Miller Engineering uses to validate its piston designs along with that of all its other products.

What better way to prove you make the best blown-fuel pistons in the industry by running them in your own Top Fuel Dragster? Image: BME Ltd.
BME makes a variety of pistons for other types of drag racing, including blown alcohol, Pro Stock, Comp Eliminator, sport compacts and Super Stock. Bill Miller Engineering Forged Aluminum Pistons have a growing popularity amongst racers in the Pro Mod ranks. Some of the top Pro Mod teams running supercharged or turbocharged, alcohol-burning engines in NHRA, NCMA, SCSN, PSCA and PDRA, use engines built by Pro Line Racing. The folks at Pro Line put BME Forged Aluminum Racing Pistons in every alcohol-burning engine they build.

The father-and-son team of Troy Coughlin and Troy Coughlin Jr. race two Corvettes in Promod, a 2015 "C7" and a 2004 "C5". Both the Jegs Corvettes rely on Pro Line Racing for power. Pro Line uses BME Pistons in the engines for both Vettes. Image: Team Jegs.
CLICK HERE To Download Piston Order Form
Piston Tech Briefing
Bill Miller Engineering Pistons are forged from 2618-T61 aluminum. BME has used 2618 for almost 25 years because Bill Miller believes it to be the best choice when strength and durability are prime considerations.
Another reason racers pick BME as their piston supplier is attention to detail. This set of racing pistons is being built for Drag Racing megastar, John Force, but whether it's pistons for Force or just your average bracket racer, every Bill Miller Engineering piston gets the same care taken in its manufacture.

Many other piston manufacturers use a silicon-aluminum alloy, such as 4032 or MS75. Pistons made from those alloys have good wear characteristics because the silicon particulate's hardness improves the piston skirt's durability, however, silicon is, also, their downfall because it makes pistons brittle. Through race track testing, BME found that silicon-aluminum alloys are prone to fracturing when subjected to extreme loads.

This gets worse. With pistons made of brittle, silicon-aluminum alloys, once a crack starts; it doesn?t stop until the piston suffers catastrophic failure. In the rare case of a crack in a BME, 2618-T61 piston, once the crack reaches an area of lower stress; it stops, making immediate failure less likely.

In the tongs is a BME raw forging that has just come out of the forging die. Just right of the piston blank in the tongs is a chunk of aluminum bar stock that will go into the forge on the next cycle. The forging temperature is 800 deg. F and it applies a force of 18,000 tons to forge a piston.
NASCAR racers use BME pistons to win races with engines which must produce upwards of 800 horsepower, sustain speeds above 9000 rpm and do that for up to 600 miles. The choice of a strong and durable raw material, subtle differences in the design of the forging and precision finishing of ring grooves are just some of the reasons why pistons made by Bill Miller Engineering outperform and outlast other racing pistons in stock car racing.

With its blown-fuel drag race pistons, BME takes durability measures even further by treating each piston to a very low temperature, hard anodizing process. As a result, compared to other brands, BME Pistons last about twice as long in blown-fuel, drag race applications.

Bill Miller Engineering uses state-of-the-art equipment to manufacture BME Pistons. Here a BME Team Member programs an Okuma Simulturn CNC machining center prior to a run of BME Sprint Cup racing pistons. The Okuma CNC equipment is used to machine ring grooves and to "cam turn" the piston's outside diameter.
The Bill Miller Engineering Forged Aluminum Piston line is focused on the types of products hard-core racers tend to buy. "I've decided." Bill Miller states, "to concentrate my efforts on making high-quality, high-tech racing pistons for professional racers who compete in specific types of motorsports using certain types of engines. By focusing on a limited amount of hardcore racing pistons and making those pistons to order, we can give our customers a measure of performance, quality, reliability and durability no other piston manufacturer offers. We, also, can do that with very short turnaround times."
The three most important things about a Bill Miller Engineering piston are quality, quality and quality. Every step of the way, the manufacturing process at BME employs stringent quality control along with careful records keeping.

In addition to NASCAR and Australian Supercar racing pistons, BME makes pistons for the Chevrolet Big-Block V8 along with the "traditional" (Gen 1 and 2) and LS-type (Gen 3, 4 and 5) Small-Block V8s and for the Holden 5-liter road race engines. For Ford engines, BME offers pistons for the 460 big-block, 289-302W and the BOSS 302/351s. Bill Miller Engineering has Chrysler, late-Hemi-style pistons for blown-fuel and blown-alcohol applications along with parts for the older small-block Chryslers. Bill Miller Engineering has a variety of piston designs for Pro Stock drag racing. Lastly, BME manufactures sport compact drag racing pistons for Honda four-cylinder engines. Prices for most BME pistons are listed on our price page. BME offers a number of special services which are optional at extra cost. See a list of those on our services page.

BME makes no inventory items. All its Forged Aluminum Racing Pistons are either custom-made to customer specifications or, in the case of race teams who take the specific forging die option, are completely unique.
Not only does Bill Miller Engineering make the most reliable and durable forged pistons in the business but it prides itself on great customer service, accurate technical advice, quick turnaround of orders and fair prices. More importantly, everyone at BME, from the office staff, to the high-tech manufacturing specialists who make the pistons, to the shipping department and, of course, to Bill Miller himself, are intent upon great communication with customers.

Want proof?

Try this with any of the other piston makers: call and ask to speak to the owner. If you don?t get the reply, "Uh--he?s not taking calls.", you?ll at least get voice mail. At BME, when you ask for help from the top, Bill Miller, himself, answers the phone.

That?s the sign of a great business--the one from which you should buy your next set of racing pistons.