Bill Miller Engineering's roots in the hard-core race engine parts business go back more than a generation. In 1970, fresh out of the Navy, Bill Miller worked as Warehouse Manager at National Speed and Marine in Los Angeles. This speed shop campaigned a Top Fuel Dragster. In his early years in the automotive aftermarket, not only did Bill Miller get to know the sales and distribution end of the business, but he learned about drag racing by crewing on a Top Fuel car.

This is the car that began Bill Miller's 20+ years of blown-fuel drag racing, the first BME Top Fuel Dragster. Miller and his car are in front of his second factory in Torrance, California in early-1984. The engine was a Fontana-Chevrolet and the driver was Mike Woodard: Image: Hib Halverson/Bill Miller collection
A few years later, Miller worked at the old Ansen Automotive Engineering where he became familiar with Ansen-s aluminum connecting rod. The Ansen rod was a leading-edge design but had limited market success because the manufacturing was in Japan. In the early '70s, this arrangement didn't work well because lead times were months, sometimes even a year, and the company could not respond to market changes which occurred in shorter time-spans. Ansen eventually moved production back to the United States.
About 1974, Ansen changed hands and was renamed American Racing, but the new owner was interested mainly in the wheel business. Bill recognized the Ansen rod's advanced design and that it outperformed other aluminum rods. More importantly, he was convinced of its potential for market success now that production was on American soil.
These ideas in mind, and influenced by his experiences with the National Speed and Marine Top Fuel car, Miller decided to go into business making aluminum connecting rods for drag racing. Bill went to his new employer with an offer to buy the connecting rod business and finance the purchase through a split of the profits.
BME: Open for Business
| | |
| --- | --- |
| In June, 1975, Bill Miller Engineering, Limited began business in a tiny, 1200 sq. ft. factory in Long Beach, California. BME's first years were a grueling experience. Bill Miller spent days working at American Racing as Quality Control Manager and six-to-eight hours each night on his rod business. The initial tasks were to sell the inventory of Japanese-made rods on hand and set up the BME manufacturing operation. Miller soon found most of the Japanese tooling didn't work very well. New machines had to be ordered and new tooling had to be built. | The second BME T/F car, with Russ Collins doing the driving, at the NHRA World Finals in the late-80s. Image: Bill Miller Collection |
.

The learning curve was steep because, while understanding the sales and marketing end of the race engine parts business, Miller was new to the manufacturing side. Bill became a self-taught machinist, toolmaker and manufacturing engineer on a crash basis. Through determination, persistence, seven-day weeks and four hours of sleep a night, Bill Miller Engineering slowly got on its feet.

Through the mid-to-late'70s, BME Forged Aluminum Connecting Rods became well-known in drag racing circles with racers like Bill "Grumpy" Jenkins, Bob Glidden and Warren Johnson becoming quick converts and staunch supporters. By the end of the decade, Miller had paid off his debt to American Racing and, in the drag racing world, the BME brand had become synonymous with high performance, outstanding quality, great value and excellent service. Part of this success comes from the company's mission statement: "Bill Miller Engineering is dedicated to designing, developing, and manufacturing the finest aluminum rods in the industry. Our commitment to the racer is total."

By 1978, the tiny Long Beach facility had become too small. BME moved up the San Diego freeway a few miles to larger quarters in Torrance. The first half of the 1980s brought more success. The company thrived now that it had more room. BME Rods continued to take the sport of drag racing by storm.

Left to right are: Russ Collins, Dale Armstrong (at the time he was Kenny Bernstein's Crew Chief) and Bill Miller. Armstrong was the first big-name blown-fuel racer to use BME Rods. In the 20-years since Dale Armstrong switched to BME, many other drag racers have followed his lead. Image: Bill Miller Collection
In 1981, Bill Miller Engineering fielded the first of five of its own Top Fuel Dragsters, a 240-inch, Don Long chassis with a blown-fuel, Fontana/Chevrolet for power. Mike Woodard, Bill Miller's racing associate from his prior drag race effort, a Top Gas Dragster, was the driver of the new, BME Top Fuel car. Since then, a succession of Bill Miller Engineering Top Fuel Dragsters have been used to develop and validate BME products. In 2010, the BME Top Fuel Team debuted the fifth in this line of race cars. For more information on BME's NHRA Top Fuel drag racing effort, see the Top Fuel race team page on this web site.

BME Pistons

In 1982, in a major expansion of its racing engine parts business, Bill Miller Engineering purchased the old ForgedTrue Piston company. ForgedTrue was started by hot rodding pioneer, Art Sparks, at the end of World War II. Sparks was the inventor of the manufacturing process used to make a forged aluminum piston. When war production ceased in 1945, all of a sudden, Sparks' friend, aircraft manufacturer Donald Douglas, had a lot of unused forging presses in his aircraft plant at Santa Monica, California. Art Sparks made a deal with Douglas to use those presses to make forged pistons for the Offenhauser, four-cylinder, race engine.

ForgedTrue went on to become a major brand in the premium racing piston field during the '40s, '50s and '60s. Not only did Sparks have his own successful business, but TRW paid him a lucrative royalty to use his forging process in its volume-market, forged pistons which were both used by O.E manufacturers and widely sold in the aftermarket. Art Sparks retired a very wealthy man.

During the 1970s, ForgedTrue Pistons changed hands several times. Successive corporate owners, more interested in quick profits than good products and service, ran the once famous and respected name into the ground.

In 1981, Bill Miller Engineering begin to campaign Top Fuel dragsters.

There have been several over the years. The current BME Top Fueler, sponsored by BME, machine tool maker, Okuma, and the Red Line Synthetic Oil Corporation, is a Brad Anderson/Hemi powered, 300 in. Don Long-built race car. Bill Miller has always taken a hands on approach to his race car, in this case, programming the BME Dragster's on board data recording system.


At today's BME, quality and teamwork are two key themes. At left, a BME Team Member runs a quality control check on a Sprint Cup piston using a coordinate measuring machine and, above, Bill Miller discusses quality and manufacturing process with another Team Member who works on aluminum rods.

Upon ForgedTrue's acquisition in 1982, Bill Miller had another herculean task ahead of him. Sales had tanked and the company's reputation was in shambles. First, the name was changed to "BME Forged Racing Pistons". Then, Bill applied the same business plan and commitment to excellence that made his Aluminum Connecting Rod a drag racing benchmark. A key marketing decision concentrated the business mainly on the piston needs of hard-core drag racers. Later, that would change but, for the time being, BME needed to narrow its focus to free-up time and resources to solve other problems. Next, stringent quality control processes were instituted. Finally, the same good labor relations that bred dedication and enthusiasm in the employees on the connecting rod side of the business were applied to the new, piston operation.
Three years later, as the BME Piston situation began to improve and with the increasing difficulty of spreading his management team between two distant locations in the Los Angeles area, Bill Miller combined the rod and piston operations in a new, even larger factory in Harbor City, California.
During the remainder of the 1980s and the early '90s, Bill Miller and the hardworking BME employees, brought the piston business to a point where its reputation equaled that once enjoyed by ForgedTrue, then they exceeded it. In addition, the company continued its quest for excellence with the BME Forged Aluminum Rod. More team members were hired. New machinery, including the first of BME's computer numeric-control (CNC) machining centers, was installed allowing additional increases in quality and production rates for all BME products.
In 1992, after eight years of solid growth, Bill Miller Engineering, once again struggled for working space and began yet another search for more spacious quarters. This time, though, it went farther than just up the freeway. In the early '90s, the State of California's increasingly hostile business climate forced an out-of-state relocation.

In 1993, BME selected Carson City, Nevada as its new home. Once again, a move to larger quarters enhanced BME's growth and its products. Revitalized by a less restrictive regulatory environment, a skilled labor force and a pleasant climate, Bill Miller Engineering continued to thrive.

Bolstered by his company's growth in its first few years in Carson City, Bill Miller made a significant investment which would result in a major improvement in the BME's mainstay product, the Forged Aluminum Rod. In 1996, after a comprehensive research and development program, Bill Miller Engineering introduced rods made of an new, advanced, aerospace-derived, aluminum alloy. This new type of aluminum provided an average, 15% increase in tensile and yield strength along with equal or better elongation and other mechanical qualities with, most importantly, no increase in weight and no significant increase in price.

The "new" Bill Miller Engineering Forged Aluminum Connecting Rod design saw rapid success in the market and, since then, sales have continued to be strong. Fifteen years after its introduction, the revised Connecting Rod remains Bill Miller Engineering's core product and continues to dominate the market for aluminum connecting rods.

Bill Miller Engineering's 1992 move to Carson City, Nevada had it constructing this factory near the Carson City airport.
BME Moves to NASCAR
By 1995, the Bill Miller Engineering Forged Racing Piston was so highly regarded that Hendrick Motorsports, the top team in NASCAR Winston Cup (now called Sprint Cup) Racing, switched to BME Pistons. When news got out of which piston Cup Champion, Jeff Gordon was using, other teams jumped on the band wagon. Over the last 16 years, BME racing pistons have been used by all the top NASCAR teams racing Chevrolets, Dodges and Toyotas. Since 1996, six NASCAR Sprint Cup Champions, Jeff Gordon (1997, 1998, 2001) Bobby Labonte (2000) and Tony Stewart (2002, 2005), along with five Daytona 500 Winners, Dale Earnhardt (1998), Ward Burton (2002), Dale Earnhardt Jr. (2004), Kevin Harvick (2007) and Jamie McMurray (2010) used BME Pistons.
BME Pistons have won championships in some of NASCAR's other series, too. The 2008 and 2009 Nationwide Series and the 2007 and 2009 Camping World Truck Series were won by Teams using Bill Miller Engineering Forged Aluminum Racing Pistons.
Pistons are always sold with wrist pins because the two are a matched fit. Because of difficulty in acquiring wrist pins from outside manufacturers which performed to Bill Miller's standards and to better control the quality of the pistons delivered to NASCAR teams, in 1999, BME introduced its own line of Wrist Pins. The initial goal was to offer NASCAR racers a wrist pin of equal durability, better quality and a lower cost than the pins typically available to Winston Cup teams in the past. With the addition of pins for blown-fuel drag race engines, the BME Wrist Pin line really took off in 2001 and 2002. Like BME Forged Aluminum Connecting Rods and Pistons, the BME Wrist Pins have become a benchmark by which other pins are judged.
BME Builds Blowers

In 1996, Bill Miller Engineering introduced the Gibson/Miller Supercharger. Designed jointly by aerodynamicist and former BME Top Fuel driver, Tim Gibson, and Bill Miller, the Gibson/Miller Supercharger is intended for blown-fuel and blown-alcohol drag race applications and other situations where a high-flow, high-boost, Roots-type, "14-71" supercharger is required. The Gibson/Miller Supercharger was quickly embraced by top competitors in nitro class drag racing for its outstanding quality and high performance. The improved Gibson/Miller Mark II debuted in 2009 with structural improvements along with a 12% improvement in air flow. In 2011, BME expanded the its supercharger line by adding 6-71, 8-71, 10-71 and 12-71 sizes to the line along with high helix rotor sets.




This view of the BME factory floor shows the piston and connecting rod manufacturing lines.

In the southwest end of the BME's plant are the lines which make Gibson/Miller Supercharger parts along with BME Pistons and Wrist Pins.

The Gibson/Miller Mark II 14-71Supercharger continues as the most efficient, reliable and durable supercharger available to nitro class racers and the new sizes and rotor styles make the Gibson/Miller's performance, quality and durabiilty available to the greater motorsports community.

Bill Miller Engineering is the consummate American business success story. It began a generation ago with one man's idea how high-quality connecting rods for drag race engines should be made. Today, BME thrives with scores of loyal, quality-driven employees teaming up to manufacture the best aluminum connecting rods, forged racing pistons and wrist pins that money can buy.
BME Research Advances Drag Racing Safety
In the mid-2000s, one of the biggest dragster and funny car chassis builders in drag racing experimented with smaller-diameter, heat-treated tubing in a race car chassis instead of the normalized, or "Condition N", tubing traditionally used in those applications. The belief was that lighter, heat-treated tubing would be safe to use. Heat-treated chassis were immediately controversial with those in the sport who understood the metallurgy of heat treated steel tubing and its effects on safe race car chassis design.
The heat-treated versus normalized tubing debate simmered during the last half of '06, but broke wide-open in 2007. The January 2007 issue of Drag Racer magazine carried an article about Bill Miler and his Top Fuel Team. Miller's over thirty years of experience in metallurgy had him a critic heat-treated tubing.
In the Fall of 2006, Miller told Drag Racer correspondent, Hib Halverson during an interview for the article, the use of heat-treated tubing "...didn't make the sport safer; it made it more dangerous. Heat-treating makes the chassis brittle. Instead of having a ductile failure, where a tube bends; heat-treated tubing fractures. There's no warning you're approaching the limits of the part; it just suddenly breaks.
"The Schumacher car at Seattle, last year, was a ductile failure. The bottom rails broke because they were too small, but the top rails bent, because they were not heat-treated, and the chassis stayed together. The failure McClenathan had this year ('06) at Bristol in a heat-treated chassis, was a classic, brittle fracture. Parts snapped and the car came apart."
NHRA seemed to ignore the developing problem with heat-treated tubing until failure of a heat-treated chassis possibly killed Eric Medlin in March of 2007 and, then, six months after that, another failure may have almost killed John Force. Those tragic events made the heat-treated vs Condition N tubing controversy a high-profile issue throughout drag racing. Bill Miller Engineering and the BME Top Fuel Team were instrumental in scientific research done to prove the detrimental effects of using heat-treated tubing in a race car chassis. An investigative article by drag racing journalist, Jon Asher, posted in October of '07 on Competitionplus.com and in January of '08 on this web site, is the truth about Top Fuel and Funny Car Chassis Failures. Please click here to read this BME Special Report.
BME Parts are the Best Money Can Buy
Bill Miller Engineering occupies a 20,000 sq. ft. facility just north of the Carson City Airport. A state-of-the-art manufacturing facility is divided into four sections, one for each of BME's major products, Rods, Pistons, Wrist Pins and Superchargers. A clean, well-lit factory area is loaded with the latest in machine tool technology including Okuma and Haas CNC Machining Centers and Ikegai CNC Turning Centers. Located in the same building are warehousing, executive offices and the BME Top Fuel race team facility.
Bill Miller Engineering is the consummate American business success story. It began a Generation ago with one man's idea how high-quality connecting rods for drag race engines should be made. Today, BME thrives with scores of loyal, quality-driven employees teaming up to manufacture the best aluminum connecting rods, forged racing pistons, wrist pins and superchargers that money can buy.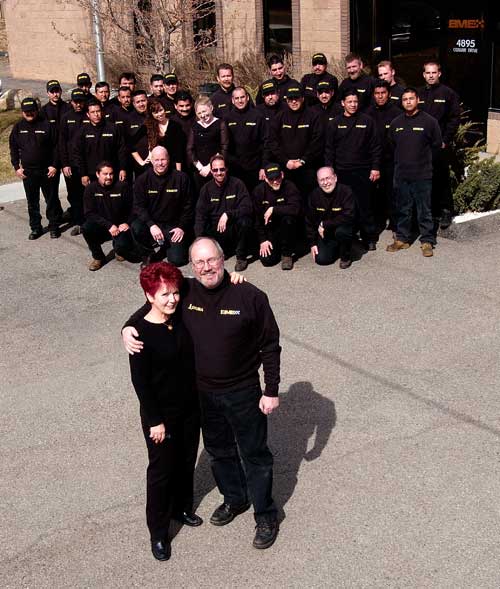 Bill Miller and wife Virgie are supported by dozens of dedicated team members are what make BME products great.